Go Eagles!
Why is this posted on the AOH website you ask yourself? The webmaster is an alumni and earned his BS – Mathematics/Computer Science from Ashland University.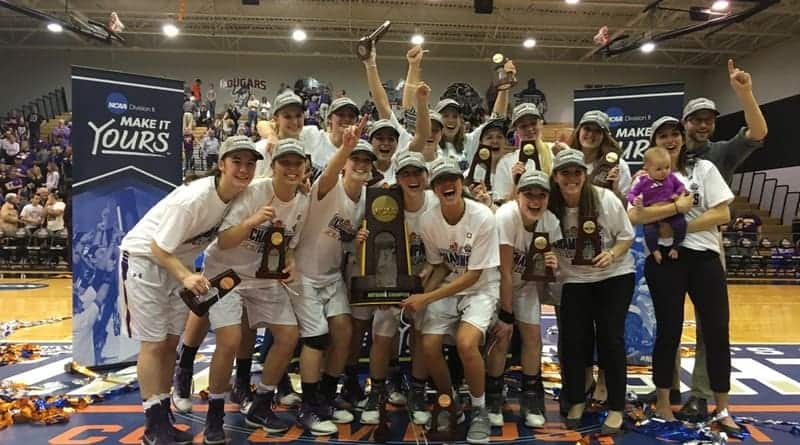 LINK – ASHLAND UNIVERSITY WOMEN'S BASKETBALL PAGE
THE TURNING POINT: Holding on to a 59-54 lead late in the third quarter, Ashland went on a 14-4 run to pull away.
STAT OF THE GAME: The Eagles won their second NCAA Division II national championship.
The mission is complete.
Ashland University's women's basketball team won its second NCAA Division II national championship on Friday (March 24) night, defeating Virginia Union, 93-77, at Alumni Hall on the campus of Ohio Dominican University.
In doing so, the Eagles became the first D-II women's basketball team to finish a season at 37-0.
"What we talked about before the game was the reason we're here is because of love," said Ashland head coach Robyn Fralick, now 68-2 (.971) as a head coach. "This team has loved each other really well. They've loved committing to something bigger than themselves, and there's just so many things that aligned about them that were good.
"To experience this with this group, that has done so many things right…just makes it really, really rewarding."
This is Ashland's second national championship in the last five seasons. In 2013, the Eagles won the first national championship in program history, 71-56, over Dowling in San Antonio, Texas.
Five Eagles scored in double figures in the title-clinching victory – freshman guard Jodi Johnson (19 points), junior forward Laina Snyder (17), sophomore guard Maddie Dackin (14), senior guard Kelsey Peare (13) and junior forward Andi Daugherty (13).
Snyder is the tournament's Most Outstanding Player, while Daugherty earned a spot on the all-tournament team.
"I think it was just another game," Snyder said. "I was struggling balancing between going out and playing it like a normal game and taking in what a special experience this is."
Ashland set a new program record for points in an NCAA tournament game for the second contest in a row. The Eagles finished the night hitting 53.4 percent from the field and 90.9 percent from the free-throw line.
Defensively, Ashland kept the Panthers to 47.2-percent shooting while forcing 21 turnovers.
For Virginia Union, Alexis Johnson scored a game-high 28 points, and Lady Walker added 19 points and 12 rebounds.
The early jitters were evident on both sides. Trailing 9-8, Ashland received back-to-back layups from Snyder and junior forward Julie Worley to take a 12-9 lead into the first-quarter media timeout.
Leading 14-11, however, the Eagles allowed five straight Panther points. That mini-spurt, however, was ended with a Johnson triple in the corner – which began a 10-2 Ashland run that led to a 24-20 lead going into quarter No. 2.
Continuing the theme of runs, Virginia Union scored seven quick points in the first 2:28 of the second to take a 27-24 lead. Johnson put a stop to that run, as well, with a triple to tie the game for a fourth time at 27.
Johnson's third triple of the game, putting Ashland ahead 32-31, forced the Panthers to call a timeout with 5:52 left until halftime. The Eagles continued to lead without being able to pull away, but a pair of free throws from Dackin – Ashland's first attempts of the game – with 28 seconds to go allowed for a 47-42 bulge at the break.
Virginia Union got to within a point at 49-48, but Peare connected on her third triple of the game, and Ashland's eighth, to extend the lead. Inside of the five-minute mark of the third, Dackin made the Eagles' ninth trey for a 57-52 advantage.
With a 59-54 lead at the 2:36 mark, Ashland turned up the defensive pressure, leading to three quick free throws and an eight-point lead – the Eagles' largest to that point. Dackin hit two more charity tosses with 60 seconds left in the third, then two more just 32 seconds later, to allow Ashland to take a 68-58 lead into the final quarter.
A reverse layup from senior guard Alex Henning and Ashland's 10th triple of the game from Johnson lifted the Eagles to a 73-58 lead – and the countdown to the national title was on.
The title game was the final one at Ashland for Peare, Henning and fellow senior guard Rachelle Morrison.
"We have a senior our team, Rachelle Morrison, who isn't in the recap story a lot or the boxscore, but this season, she was all-in, no matter what," Fralick said. "Her leadership and her unconditionalness about this team and her buy-in and her commitment and the way she communicates and held people accountable and put the team first…that's why we're here."
Ashland boasts two of the four 37-plus-win seasons in Division II women's basketball history, having won 37 games each in 2012-13 and 2016-17.
NOTEBOOK: Daugherty moved into fourth place on Ashland's all-time scoring list with 1,516 career points, while starting her 104th consecutive game to start her Eagle career…Peare played in her Ashland-record 130th career game…The Eagles finished 2016-17 scoring a Division II-record 3,456 points…Ashland's all-time NCAA postseason winning percentage of .808 (21-5) is a Division II record for programs with at least 20 games played.