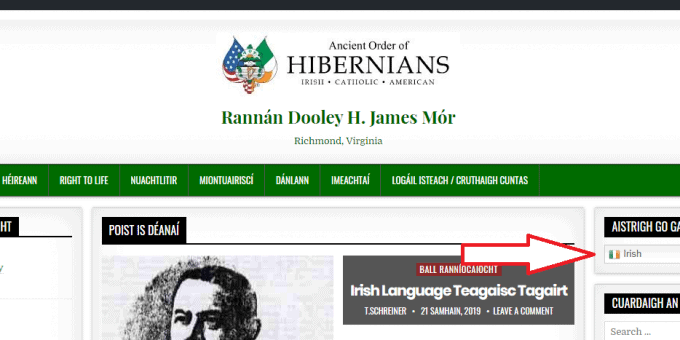 Interested in learning the Irish Language? Brother Tom Schreiner has put together a compilation of great references of online courses available to help. Additionally, I have added a "Translate to Irish" feature to the website located in the right sidebar at the very top. Simply select "Irish" language and this website will be translated from English to Irish.
A chairde,
Dea-scéal/Good news: beidh Gaeltacht.net ar ais an tseachtain seo chugainn! This new design will run from Nov 25 – Dec 22nd and will incorporate many of your recent suggestions. You may participate at any time over the 4 weeks, as much or as little as you like. This upcoming cycle has a number of changes, namely:
– A simplified format, with 1 course ('Tascanna') for all users.
– 3 language tasks each week (Mon, Wed and Fri). 'Follow' the Tascanna blog to have tasks emailed to your inbox. Each week will revolve around a new theme.
– Each task will have a slightly different focus, i.e Monday is 'Connection', Wednesday is 'Creation' and Friday is for 'Collaboration'. For more details, please see Gaeltacht.net/about
– 2 Ciorcal Comhrá sessions on Sundays, at 12pm (A0, A1) and 1pm (A2+) EST. You must RSVP in advance to join the conversation sessions. There is also a Marco Polo group and a Caint le Cara forum.
– Increased emphasis on member contribution, collaboration and use of social media.
– More clearly defined role for Cúntóirí Teanga.
– 2 membership levels: 'Ball/Member' and 'Rannpháirtí/Participant'. Participation is free for all current members – simply apply the coupon Gnet44 when registering for the 'Rannpháirtí/Participant' level.
Thank you to everyone who submitted their feedback following our Oct 7 – Nov 3rd cycle. I hope to follow up on interviews in December and hear your views on the last cycle and this new version. I am curious to see if this new iteration will be a more sustainable and user-driven model for community members, so I hope you can participate again and I look forward to hearing what you think. (If you know someone who would be suitable to act as a Cúntóir Teanga for 1 week, please invite them to volunteer! Más Cúntóir Teanga thú, líon isteach an fhoirm seo, le do thoil.)
Slán go fóill,
Ronan
http://www.Gaeltacht.net/feedback