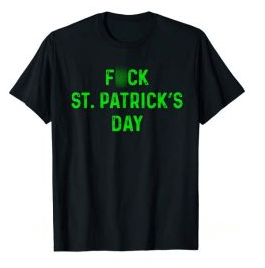 Currently, Amazon is selling an item labeled as an "F*ck St Patrick's Day Shirt." Amazon describes the item as an "Anti St Patrick's Day shirt for guys and gals "F*ck St. Patrick's Day" and a "Perfect anti-St Patrick's Day shirt for those sick of all the wannabe Irish making excuses for getting drunk."
As of my writing, Amazon currently sells 130 items with the phrase "F*ck Me, I'm Irish." A similar search replacing "Irish" with several other races and ethnicities returned ZERO results.
Hundreds of other items defaming Irish Americans have messages such as "Irish Today Hungover Tomorrow", "Irish, Drunk, or Whatever", "Drink Till You're Irish"
In response to concerns from other ethnic groups, Amazon has removed other items that were deemed offensive.
We ask you to please consider signing the below letter to Amazon CEO Jeff Bezos. On submission, it shall be sent to his e-mail and Amazon customer service. It is time to end the charade of "selective diversity and tolerance". As Irish Americans, we ask not to be treated better than anyone else, but we should not accept being treated worse. All heritages should be shown the same level of respect.