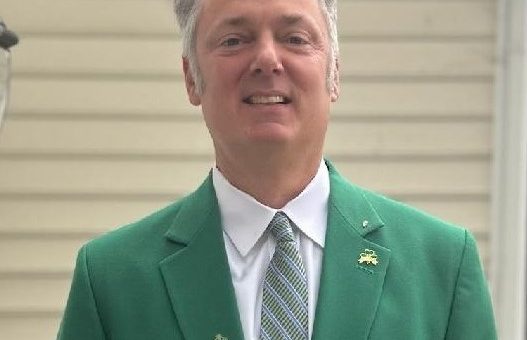 President's Message
March 2023
"Our Time" has arrived! I have always loved this time of the year. Weather is getting warmer, days a little longer and we get to celebrate our Irish ancestry. This is Irish American Heritage Month. Make sure to tell folks about the contributions the Irish made to this country. If you don't tell them, Who will?
March historically has been the biggest month for new members to join according to the AOH National Board. There has been a resurgence in interest in genealogy over the last few years. Invite your neighbors, friends, co -workers, and former classmates to join us at Mass on St. Patrick's Day or at the Irish Festival on Church Hill. Tell them what the AOH is all about.
We are lucky that we get to celebrate Mass at St. Patrick's Church on St. Patrick's Day. This beautiful church was built by Irish immigrants in the late 1850's. At that time many Irish lived in the eastern part of Richmond and worked in the tobacco factories.
In my opinion the Irish Festival is the best event in Richmond. This is THE authentic Irish Festival. Between the traditional music, dance, vendors, and children's activities there is something for everyone. It was wonderful to walk around last year and see so many smiling faces.
Thanks to everyone who helped after Mass selling tickets at St. Mary's last month. We wrapped up another successful sales effort at the local churches. On-line sales have really picked up this year.
We have a full agenda for our March meeting. I'll ask that we dispense some of the business items until our April meeting. We have an initiation, we need to plan for the upcoming events, make sure our signup sheets are filled out, and we will be treated to our annual quiz on Irish history and culture by our division historian, Brian Hegarty.
MARCH CALENDAR
Sat 11th 6p-9p LAOH Mary Ryan Irish Gala, St. Michael's (SOLD OUT)
Tue 14th 7p-9p Monthly Division Business Meeting @ St. Michael's
Fri 17th 9am Mass at St. Patrick's Church with J.P. Carroll Breakfast to follow in basement (donated meat-free breakfast items welcome)
continue to Rosie Connolly's (opens at 11am)…and onto Rare
Olde Times or wherever the wind takes us
Fri 24th afternoon Help needed to set up booth for Irish Festival
Sat 25th 10a-6p Church Hill Irish Festival please be there at 9:30a for the 10a parade…sign ups to follow for raffle sales & recruiting
Sun 26th 10a-6p Church Hill Irish Festival…sign ups to follow for raffle sales & recruiting
In Friendship, Unity, and Christian Charity,
Mike