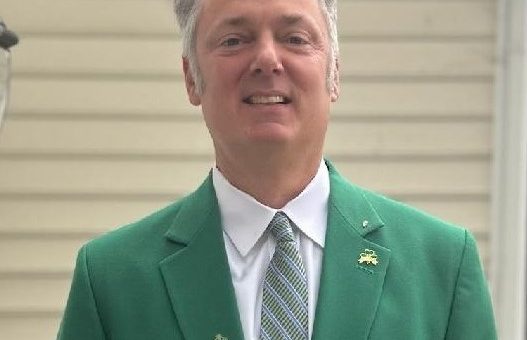 We had a great month of March celebrating our shared Irish heritage. The LAOH kicked off the festivities with their annual Irish Gala. Our St. Patrick's Day Mass was concelebrated by Fr. Jim, Fr. Maxwell, and Fr. Nick. I enjoyed hearing Fr. Jim's humorous childhood memories of St. Patrick's Day. After Mass the annual JP Carroll Breakfast was well attended and delicious. Then it was off to Rosie's Connolly's to raise a toast and enjoy the day.
The Church Hill Irish Festival began with some Irish weather but soon cleared up. For the majority of the weekend we had great weather. Our man, Gary McAuliffe, was the Grand Marshall of the opening parade. Our booth was busy all weekend and we had one of our best years in raffle sales. Jim Woods, once again, did an outstanding job as Raffle Chair. This year's winner was Renee Connell. There's a great photo of Renee receiving her check from Division Treasurer Fred Gerloff on our website. So many of you stepped up to help sell tickets, set up the booth, work the booth, and collect donations for the Festival at the gate. The LAOH Mary Ryan Division had a tent next to ours. They were very helpful in steering people over to our booth to buy a ticket. The Ladies were selling T shirts to support Freedom For All Ireland. If you haven't seen those shirts yet there is a link on our website.
On April 23rd we are putting together a breakfast after Mass at St. Elizabeth's (Fr. Jim's home parish). Plan on wearing something green and attending if you can. Reach out to Chad Costello if you can bring something or help out. That same weekend is the annual golf trip to Myrtle Beach. Dan Caffrey has a big group that plays regularly throughout the year. Let him know if you want to be added to the group email.
Brothers, I had great time celebrating with all of you. This is a fantastic organization and I'm proud to be part of it. Look forward to seeing everyone at our monthly meeting on April 11th at St. Michael's Lake House.
In Friendship, Unity, and Christian Charity,
Mike Smith