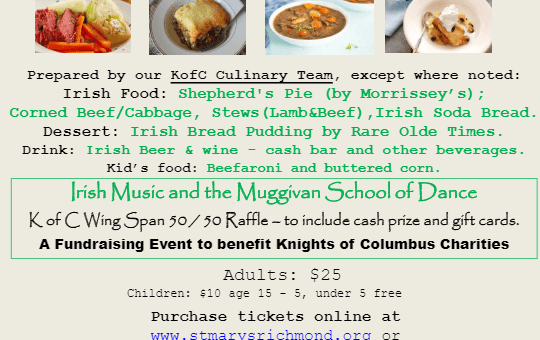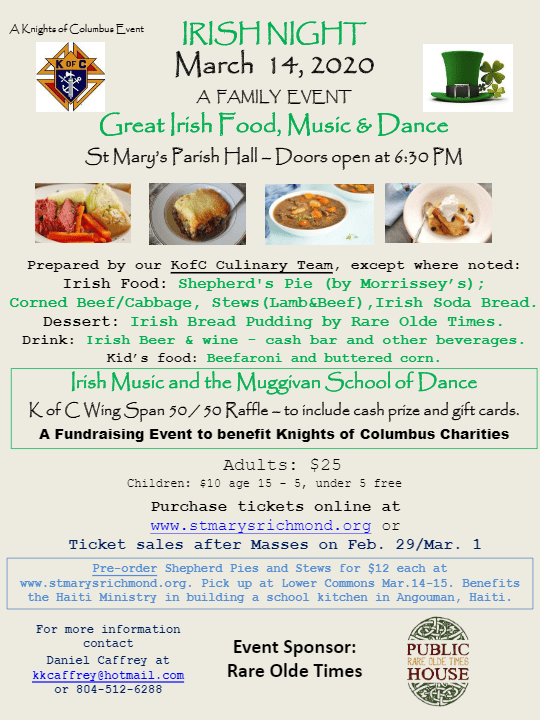 Irish Night at St. Mary's on March 14, Saturday at 6:30 pm.
Run by Big Dan.
Irish Night ticket sales are live on the St. Mary's website.
https://www.stmarysrichmond.org/blog/events/knights-of-columbus-irish-night-175630
See Attached Flyer.
Great night planned:
Great food:
KofC Culinary Team (Corned Beef/Cabbage, Stews, Irish Soda Bread),
Shepherd's Pie (by Morrissey's) and
Irish Bread Pudding (by Rare Olde Times).
Irish Beverages.
Irish Music including Fr. Mike and Deacon Peter McCourt (AOH member).
Irish Dancing including the Muggivan School of Dance.
In Friendship, Unity and Christian Charity,
Daniel Caffrey
M 804-512-6288