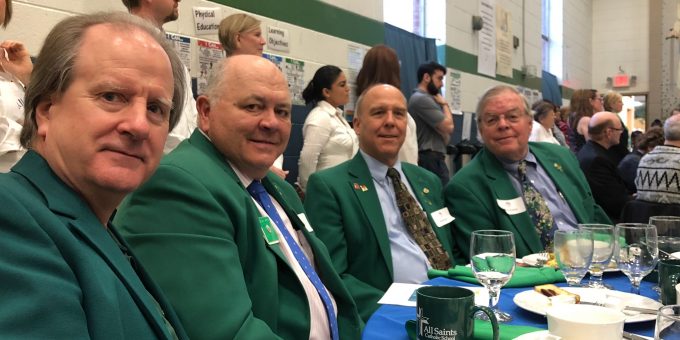 It is Spring, and that means it is time once again for "Breakfast with the Saints"! I am writing to ask that you consider joining my table at this annual fundraising event for All Saints Catholic School. I was asked to attend this event several years ago and I have been a strong supporter of the school ever since. All Saints is a parochial school located in Richmond's Ginter Park that values the diversity of all cultures, religious affiliations and races. They offer an accredited pre-K through 8th grade education and boast a 100% high school graduation rate with 95% going on to attend college. I have attached a fact sheet if you would like to learn a little more about the school.
This one hour fundraising breakfast will showcase the school's mission to offer a quality education in a safe and supportive environment and will highlight the school's many successes. You will be asked to consider making a donation with no minimum or maximum gift. With 60% of the students receiving tuition assistance and over 30% of them qualifying for free or reduced lunches, financial support is crucial to the continued success of the school. Also, consider that this school qualifies for the Virginia Educational Improvement Tax Credit Program.
The breakfast is being held on Friday, April 5th at the school. Coffee will be available starting at 7:00 AM and the one hour breakfast and program start promptly at 7:30 AM. The school is located at 3418 Noble Avenue in Richmond.
Please let me know if you will be able to attend. As table host, I want to fill my table as this event is the school's primary fund-raiser. I hope you will attend and learn about the great things going on at All Saints! If you are unable to attend but would still like to support the school, please let me know.
Thanks!
Mike Smith
804-873-2198